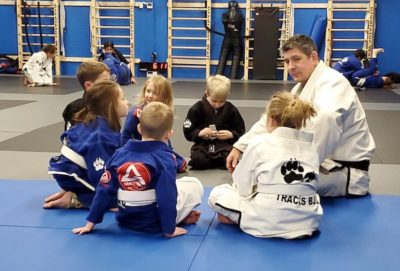 Kids who participate in martial arts learn a variety of physical skills that contribute to a long-term practice and a healthy lifestyle. At the same time, kids also develop and practice character-developing skills that help them succeed in school and daily life.
Here are some of the skills that encourage character development through our martial arts programs:
Respect
On the mats, we treat everyone with respect. Martial arts students respect their instructors or coaches, as well as their fellow teammates. Demonstrating respect comes in many different forms. When someone is speaking, we expect everyone to listen and pay attention. We treat others the way we wish to be treated. And this mutual respect then carries into daily life.
Honesty
Kids develop honesty by learning what telling the truth means. It's not exaggerating events or telling little white lies. Honesty helps to build confidence, reliability, and integrity. Honest children become honorable and dependable adults.
Self-Confidence
In our martial arts programs, we focus on a student's individual improvement. Developing new skills leads to a boost in a child's self-confidence through a strong sense of accomplishment.
Patience and Persistence
Sometimes kids grasp skills quickly. Other times, improvement can take time. To make continuous progress, kids learn the value of patience and persistence. Hard work will pay off in the end; it won't always be an immediate result.
At Tracks BJJ in Coon Rapids, we want kids of all ages and experience levels to reach their highest potential. We believe that the practice of Brazilian Jiu Jitsu promotes individual development and personal growth. Our Kids/Teens program teaches technique through functional games to improve strength, coordination, agility, and flexibility in a fun, friendly, and interactive manner.
To learn more about the martial arts programs we're currently offering and how to get your child started with BJJ, contact us today.